The 4 Best Masonite Cake Boards
Introduction
When choosing cake boards, Masonite cake boards are easily the best. Unfortunately, a lot of people aren't familiar with what Masonite is, and why it's so sturdy.
What Is Masonite? What Makes It Good For Cake-boards?
Masonite (also known as hardboard) is a hard, condensed form of wood. Basically, small wood fibers are boiled and pushed down until they're super compact and sturdy. You can think of Masonite as a super material: it's light like cardboard but sturdy like actual wood. It's got the best of both worlds in terms of working as a cake board. With Masonite, you won't have to worry about your cake falling apart under flimsy material, yet its lightness makes it hard to drop or be broken.
In this article, we go over some of the best cake board options you can buy, and all with really awesome bargains. Below, we've listed some of our favorites, with professional designs that can work for any occasion. Also, our list includes boards in packs, giving you more bang for your buck.
Masonite Cake Boards – Best Options
#1 – 12″ White Round Masonite Cake Board, Pack of 6
This is the ultimate standard cake board for a great deal. This specific package comes in packs of a half dozen, giving you ample options for platters, appetizer dishes, and of course: cake.
With no deep coloring or detailing, you can truly get away with using these anywhere! If you buy six, you could have one for the cake at a nice wedding, one for snacks after your kid's soccer game, one on professional display for catering, one at a casual birthday party, one at a baby shower, and another at a workplace event! The point is, these cake boards can be anywhere. From the most elegant professional settings to the last-minute birthday cakes, this neutral-colored set will be sturdy for your every need.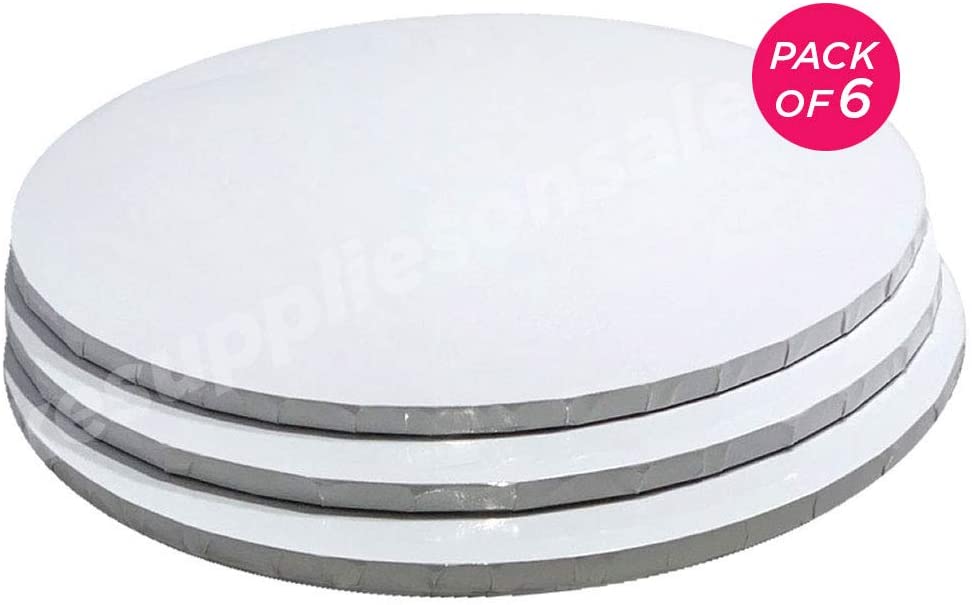 #2 – 10″ White Round Masonite Cake Board, Pack of 6
Here's another beauty: This is a great standard pack of cake boards that will carry what you want with ease. They might not have the fanciest coloring, but they do have smooth edges, and impeccable design. These beautiful boards will keep your cake upright and sturdy for as long as you need it to, in basically any setting. They aren't like your typical "trying to look fancy" cake-boards with gold embroidering, but they get the job done. It's nice to have a cake board that puts the cake's aesthetics first.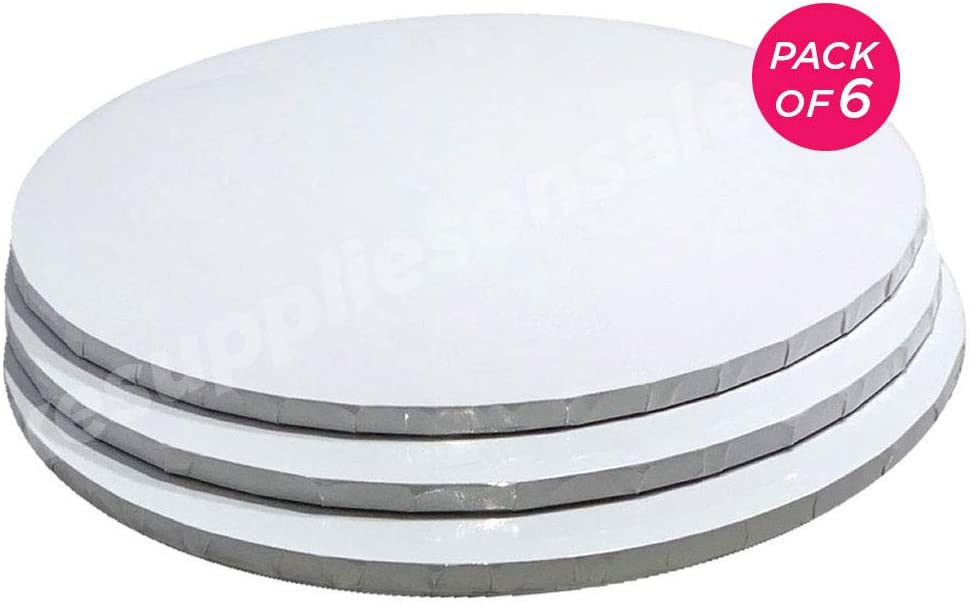 #3 – 10″ White Round Masonite Cake Board Marble Pattern, Pack of 6
Are you looking for a cool-colored pack of cake boards with cool marbled patterns? These stunning cake boards will absolutely rock your world, and keep your cake upright! Plus, they come in a generously portioned selection of 6. They're durable, and they won't fall over or ruin your masterpiece of a cake. The marbled design adds a really sleek look, which will keep all of your guests impressed.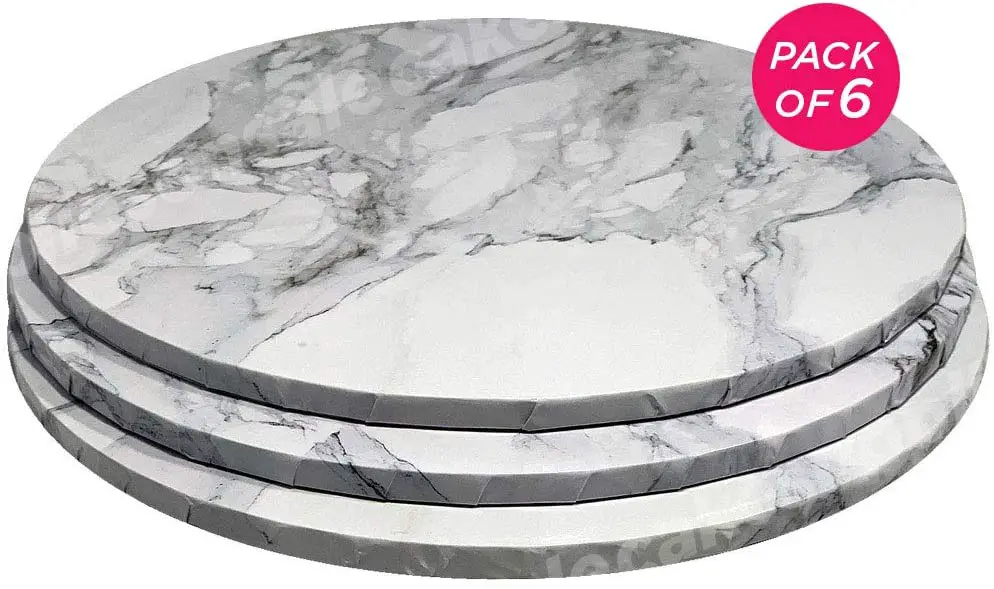 #4 – 8″ White Round Masonite Cake Board, Pack of 6
Looking for a small, tasteful cake board? We've got you covered. These are perfect for sturdy loads of smaller, more intimate cakes. With an 8 inch diameter, these round cake boards can hold a birthday cake to share with a few close friends or a handful of cupcakes. You can even put a mini snack board together on this pack of 6. All in all, they're a great deal and can work with pretty much any environment. They can even be used as plates in a pinch!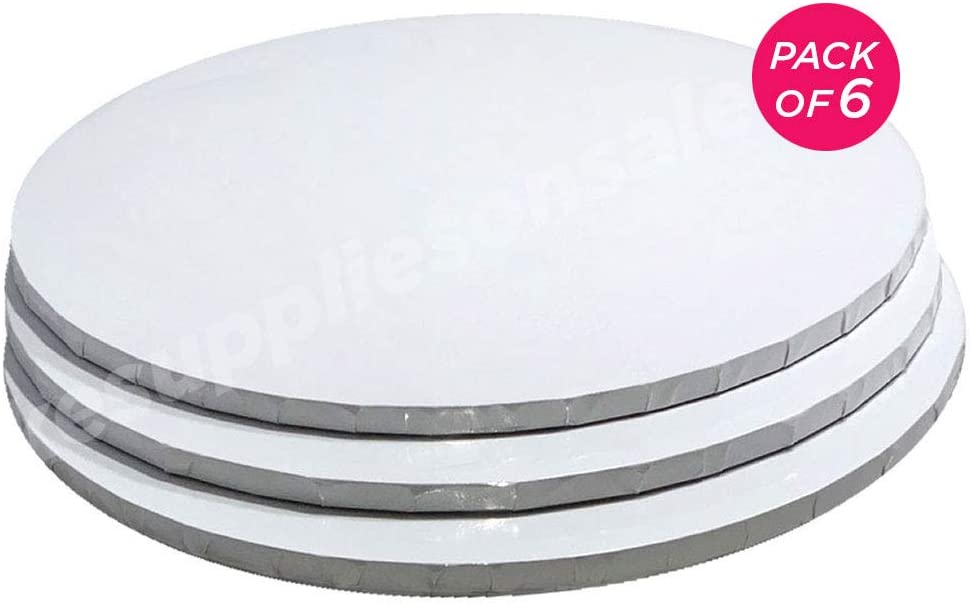 Conclusion
In conclusion, there are a lot of options for cake boards, with great customization available in style, size, price range, and material. Let's go over some of these factors, and how they might affect your shopping choices:
Style: Depending on the type of event the cake board is being used at, you may want to choose some styles over others. At a fancy birthday party, you might want something with interesting patterning or shiny colors. Many people like to get plain white cake boards, because their simple color helps them blend into any occasion.
Size: There are a lot of shapes and sizes when it comes to cake boards. You don't have to be too keen here, but it wouldn't be great if your board was dangerously small, or awkwardly large (depending on the situation).
Price range: The cake boards listed above include some exceptional deals. In fact, many of them come in large packs, which are great for long term use, and getting a bargain.
Material: As we discussed in the beginning of the article, Masonite hardwood is the most reliable material for cake boards. There are other materials on the market, but their value usually isn't worth their price range. Masonite will give you the most bang for your buck.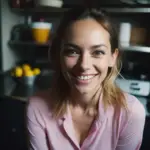 Austin is a witty and vivacious blogger who has a knack for making people laugh. With her infectious sense of humor, she effortlessly brings joy to her readers through her blog posts. But Austin's talents don't stop there - she is also a passionate cook and baker. Her kitchen is her sanctuary, where she experiments with flavors, creates mouthwatering dishes, and bakes delectable treats that leave everyone craving for more.